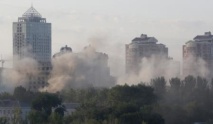 100 years since the beginning of the World War I and 75 years since the outbreak of the World War II, the intensifying bloodletting in East Ukraine demonstrates that the imperialist war is again present inEurope. The thousands of dead and injured people in Eastern Ukraine and the hundreds of thousands of refugees are the result of the overt intervention of the USA and the EU in this country in the framework of their fierce competition with Russia over the market shares, the energy transportation networks, other natural resources, and the accession of Ukraine into the one or the other ...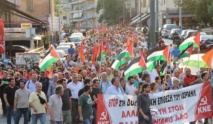 A large mobilization was organized in Athens on the 24th of July where once again the KKE and KNE expressed their solidarity with the Palestinian people and condemned the new Israeli crime that is supported by the U.S., the EU and NATO. The above mobilization was organized by the Attica Party Organization of the KKE and the Attica Organization of KNE. ...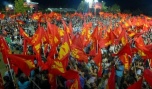 10-11 August 2014 Dear comrades, We would like to thank the CP of India for providing us with the opportunity to table some positions of the KKE at the seminar which for objective reasons we can not be present at. ...
Interventions of the KKE against the banning of the CP of Ukraine
Interventions of the KKE against the Israeli aggression in Palestine